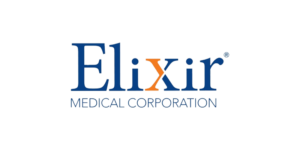 Elixir Medical is an American company established in 2005; after seven years of development and clinical trials, it began active participation in the global market by introducing its own products. The company announced the CE Mark approval for its unique bioresorbable coronary scaffold introduced under the DESolve trademark at EuroPCR 2013. Experts labelled this type of scaffold system as BRS (Bioresorbable Scaffold). Elixir Medical became globally the second manufacturer to be awarded the CE Mark for this type of product.
DESyne X2
DESyne X2 ranks among the drug eluting stents of the next generation. Thanks to its ultra-thin struts (0.081 mm) and open cellular structure, the product is characterised by high flexibility. It uses Novolimus – an active substance patented by Elixir Medical. Of all the stents available on the market, DESyne X2 is distinguished by its lowest dose of active substance: 85 µg (stent 18 mm in length). The polymer layer is less than 3 µm.
DESolve
DESolve represents the first generation of the BRS (Bioresorbable Scaffold) coronary scaffold system. It combines the clinically proven active substance Novolimus (5 µg/mm) and a unique scaffold design based on PLLA, characterised by its durability, flexibility, and verified compatibility. In the artery, DESolve degrades already within the first year after implantation, and is fully resorbed within the second year so that it leaves the artery in its natural state.
Thanks to its elasticity, DESolve can be inserted into tortuous arteries as well. It is the only scaffold available on the market that possesses the unique feature of so-called self-correction, which guarantees optimal apposition of the scaffold on the artery stent. The scaffold is always appositioned into its nominal diameter, which reduces the risks of thrombosis and undesirable restenosis developing.
DESolve CX Plus
DESolve CX Plus is already the second generation of BRS. DESolve CX Plus retains the unique characteristics of the first generation of DESolve (degradation within one year, self-correction feature), but on top of that, it innovates the inserting system. The product includes an enhanced balloon dilator and reduced strut thickness (120 µm).